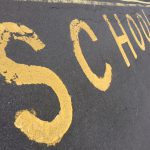 DRIVERS who park on keep clear markings outside schools can now expect to get an unwelcome letter in the post.
Penalty charge notices issued by East Sussex County Council's civil enforcement officers (CEOs) will be sent to drivers by post if they drive off before they can be issued in person or attached to vehicles.
The move, which coincides with the start of the new school year, is aimed at drivers who park on zig-zag lines or 'keep clear' markings outside schools.
The council says the change will allow officers to work more efficiently and should provide more of a deterrent to stop people from parking in areas with these restrictions, which are there to improve safety for schoolchildren and other pedestrians.
The new system will apply in the boroughs of Eastbourne and Hastings and in Lewes district – the areas of the county where the council is responsible for parking enforcement.
Karl Taylor, county council assistant director for operations, said: "We know from the feedback we get from the public that parking outside schools is a big issue.
"The roads outside many schools are very busy at the start and end of the school day, meaning some parents may be tempted to stop in places where they wouldn't usually park.
"The 'keep clear' markings are there for a reason – to ensure the safety of children and other pedestrians – and parking in these areas is anti-social and dangerous.
"The switch to posting out penalty charge notices will allow our CEOs to cover more ground and help to keep our roads and our young people safe."
The changes were agreed at the council's transport and environment lead member meeting in March. Errant drivers are fined £70, reduced to £35 if paid within 14 days.
More information is available online at https://www.eastsussex.gov.uk/roadsandtransport/parking/tickets/parking-on-school-keep-clear-markings/