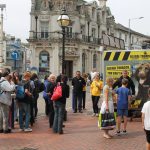 A SERIES of public roadshows aimed at targeting the illegal tobacco trade resulted in 13 raids and contraband being taken off the streets.
Trading Standards officers from East Sussex County Council were joined by a trio of specialist tobacco sniffer dogs at events on the streets of Hastings and Eastbourne.
As a result, officers received 87 intelligence reports about illegal sales, raided 13 shops and seized 1,420 cigarettes and 1.25 kg of rolling tobacco.
The events were aimed at highlighting the dangers of illegal tobacco and encouraging people to be alert and to report any suspected illegal sales.
Cllr Bill Bentley, East Sussex County Council lead member for communities, said: "The roadshows proved very successful in allowing us to get the message out there about the fine work Trading Standards are doing to combat sales of illegal tobacco.
"They also offered a great opportunity for people to approach officers directly and have led to contraband product – which places people's health at risk and puts money into the pockets of criminals – out of circulation.
"I'd like to thank members of the public for their help – the intelligence they provided has led to this success.
"I hope this will reinforce the fact that the information people provide has a direct impact and that the public can play a huge role in helping us to crack down on this unscrupulous trade."
Products seized included counterfeit versions of popular brands, genuine items imported without duty being paid and so-called 'cheap whites' – foreign brands made solely for the black market.
The stars of the show were Eric, Phoebe and Yo Yo – former rescue dogs specially trained to sniff out illegal tobacco – who demonstrated their skills to the public.
Meanwhile, their handler, Stuart Phillips, was presented with a certificate of commendation from the Chartered Trading Standards Institute as part of its Hero awards, recognising people who make outstanding contributions to consumer protection.
The sale of illegal tobacco is a criminal offence. Anyone wishing to report the selling of illegal tobacco can report anonymously online to Trading Standards at www.stop-illegal-tobacco.co.uk or call the Illegal Tobacco Hotline on 0300 999 6 999.