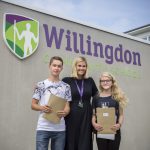 A SELECT group of East Sussex pupils are celebrating after pulling off a clean sweep of top GCSE grades under a new marking system.
Ten students from the county achieved three grade 9s in English language, English literature and maths – an achievement matched by only 2,000 youngsters across the country.
Two each of the star pupils came from Willingdon Community School, Priory School, Lewes, and Cavendish School, Eastbourne, along with one each from Beacon Academy, Crowborough, Eastbourne Academy, St Catherine's College, Eastbourne and St Leonards Academy.
The new marking regime for English and maths was introduced for the first time this year, with grades from 1 to 9 replacing the old system of grades from A* to G.
The previous top A* mark has been split into grades 8 and 9 to allow for greater recognition of the very highest achievers.
Cllr Bob Standley, East Sussex County Council lead member for education and inclusion, said: "Achieving three grade 9s for English and maths is a phenomenal achievement and the result of a lot of hard work and dedication from the pupils.
"The new grade 9 is proof of the fact they have achieved the very highest standard, something which can only benefit them as they continue their education and move on into their careers."
Kirsty Gander, from Beacon Academy, Abagail Mortimer, from Eastbourne Academy, Holly McDowall, from St Leonards Academy and Luke Herring, from St Catherine's College, all achieved three grade 9s.
Meanwhile, at Priory School, Minty Judd-Page and Nadira Mason achieved three grade 9s each; Cavendish School pupils Poppy Mercer and George Kyprianou-Hickman pulled off a clean sweep of 9s; as did Thomas Poole and Lauren Taylor at Willingdon Community School
Lauren said she found the exams tough but was 'over the moon' with the results, adding: "I feel I achieved this by getting my head down and doing the work, as well as listening to the advice from my teachers."
Thomas said his 'competitive' nature, early revision and the support of teachers had driven him on to success while head teacher Emily Beer said the school was 'immensely proud' of the pair's achievements which was testament to their 'incredible work ethic'.
She said: "We'd also like to reflect on the excellent teaching they received – which stretched and challenged them to achieve their very best – and the support they received from their parents."
The new marking system will begin to be introduced for other GCSE subjects from next year.