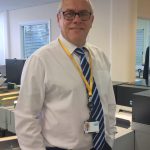 SMOKERS in East Sussex are being urged to take the Stoptober challenge and kick the habit for good with the help of a new service.
The annual national campaign encourages smokers to quit for 28 days during October, making it five times more likely they will quit for good.
To help people kick the habit, One You East Sussex – commissioned by the county's public health team – offers free personalised quit plans, which can include the use of medication, nicotine replacement patches and gum or e-cigarettes, and face-to-face support to help people quit smoking.
Cynthia Lyons, East Sussex Acting Director of Public Health, said: "We all know that smoking is bad for our health – in fact it's the biggest cause of preventable death across the county – but thinking about quitting can be scary.
"Many people find that planning to quit for 28 days is a more achievable target. Reaching this important milestone means that you're far more likely to stop for good; improving your health, wealth and adding healthy years to your life.
"I'd urge everyone who smokes to join thousands of people across the country who will be taking the Stoptober challenge. There's lots of free support available from our local specialist service, One You East Sussex."
One resident who benefited from the support available is Tony Lee, 50 from Seaford.
He said: "I started smoking at 13 and over the years it increased to around 30 a day. I had heart trouble as a result of smoking which led to me having two heart attacks in 2012. I had stents fitted and was told to quit smoking, which I was unable to do for any length of time."
Friends and colleagues encouraged Tony to visit a Stoptober clinic in October 2015 and he was put forward for a trial using an e-cigarette.
"With great support from the local stop smoking service I finally managed to quit after many failed attempts. The e-cig and the cessation class were a great help," said Tony.
"Now that I don't smoke I have the benefit of extra money in my pocket and it is surprising how much of a difference it makes at the end of the month. I have always encouraged others to follow suit and a couple of work colleagues have managed to quit- I like to think I had some influence in that.
"I still use the e-cig and am gradually reducing the nicotine to eventually stop with that as well. The local service supports you and lets you share experiences with other people in the same situation- it's much better than trying to do it on your own."
To find out more about the help available to stop smoking, visit www.oneyoueastsussex.org.uk , call 01323 404600 or email hello@oneyoueastsussex.org.uk
For more information about Stoptober, search Stoptober online.