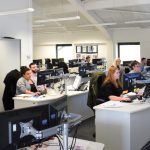 A CUSTOMER service team has clinched a national award for a pioneering approach allowing problems with East Sussex roads to be dealt with more quickly and efficiently.
The switch by East Sussex Highways to a new, more 'personalised' way of working and a high-tech software system has seen average call response times slashed from 90 seconds to just nine seconds.
The new approach, which has seen customer satisfaction levels increase from 50 to 75 per cent, earned silver in the small contact centre category at the UK Customer Experience Awards.
Customer service staff are now allocated their own geographical area, allowing customers to deal with the same adviser throughout the life of their enquiry.
Meanwhile, the public, customer service advisers and highways stewards all use the same software system – allowing a more 'joined-up' approach – while customers can report and track incidents online.
Cllr Nick Bennett, East Sussex County Council lead member for transport and environment, said: "Highways staff are at the frontline when it comes to dealing with the public, and handle around 80,000 enquiries every year.
"It's vital that when people report an issue on our roads they are able to have their enquiry dealt with as quickly and efficiently as possible and to be kept updated throughout.
"The awards Judges recognised the positive impact the new way of working and the dedication and hard work of staff has had in providing a first class, efficient, personalised service to the people of East Sussex."
The changes mean 75 per cent of calls are now answered immediately, compared to 35 per cent previously.
People are now able to receive text message updates on their enquiry or chat to advisers online, while the team also deal with enquiries via social media.
East Sussex Highways is the first authority in Europe to use the specially tailored version of the Salesforce customer service software, which links in to a detailed mapping system.
The new approach was introduced in May last year, when the new Costain CH2m joint venture took over as the county council's highways contractor.
People can report and track incidents, find details of current and forthcoming roadworks and find more information about East Sussex Highways services at www.eastsussexhighways.com