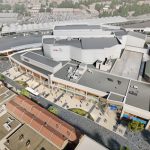 RESIDENTS and businesses are being invited to have their say on designs for a scheme which will help create a modern and pedestrian-friendly town centre for Eastbourne.
The Eastbourne Town centre Improvement Scheme is a joint project between East Sussex County Council and Eastbourne Borough Council, for which work is expected to start around April 2018.
As the design for the scheme is being finalised, members of the public are being consulted on the proposed new Traffic Regulation Orders (TRO) which will allow changes to roads around the town centre.
Among the proposed TROs are;
The introduction of a 20MPH zone within Cornfield Road, Terminus Road, Gildredge Road and several other connecting roads
A one way system between the junction of Terminus Road and Gildredge Road in an easterly direction towards Cornfield Road
The introduction of bus lanes in Cornfield Road, Terminus Road and Gildredge Road
Alteration to on-street parking in Gildredge Road, Cornfield Road and other roads within the town centre
Matthew Reid, project manager for East Sussex Highways, said: "For the scheme to be successful in creating a modern, pedestrian-friendly town centre we need to make a number of changes to the way roads around the centre are used.
"Now the public have the chance to comment on our proposed TROs before final designs are drawn up."
As well as changes to the road system included in the consultation, the scheme will see the installation of new bus shelters and new high quality paving in Terminus Road Cornfield Road and Gildredge Road, and seating and planting areas throughout the town centre.
The consultation into the Traffic Regulation Orders runs until Friday, December 15. Details about the proposed changes, draft orders, plans showing the roads affected, and reasons for proposing the orders can be found at www.eastsussexhighways.com/etcis
These documents can also be viewed at
East Sussex County Council reception, County Hall, Lewes, Monday to Friday between 9am and 4pm
Eastbourne Library in Grove Road on Monday, Tuesday, Friday, Saturday between 10am and 5pm, Wednesday between 10am and 1pm and Thursday between 10am and 6pm.
Eastbourne Borough Council in Grove Road Monday to Friday between 9am and 5pm
To take part in the consultation visit https://consultation.eastsussex.gov.uk/economy-transport-environment/etcis-tro
Alternatively, comment in writing to Parking, B Floor, East Sussex County Council, County Hall, St Anne's Crescent, Lewes, East Sussex, BN7 1UE, or by email to TROs@eastsussex.gov.uk