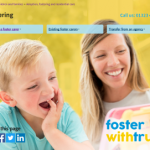 FINDING out how you could transform the lives of children in need of love and support has just got a lot easier.
In a bid to encourage more people to consider becoming foster carers, East Sussex County Council has launched revamped webpages making it easier than ever to find out more.
"There are hundreds of families across the county who could provide a supportive and caring environment for a child who hasn't had the best start in life," said Liz Rugg, the county council's assistant director for early help and social care.
"We understand that becoming a foster carer is a big step, and one that cannot be taken lightly. Our revamped webpages will allow prospective foster carers to find out how they can make a difference."
There are currently 450 children in foster care in East Sussex, but a shortage of carers seen nationally means 50 children are waiting for a placement at any one time.
"Becoming a foster carer is something that many people consider, but have unanswered questions," Liz Rugg added. "We want to make sure those people can see exactly how they can help."
For 27 year old Michael, being welcomed into a foster family at the age of 11 changed his life, giving him the support and stability he needed.
"The difference my foster family has made is ridiculous," he said. "Without my foster parents I would not be half the person I am today. If I had stayed with my real parents I would probably be doing drugs and be up to no good.
"I went from having someone just there to having someone that is always there for me; someone I can rely on and have support from. I am so thankful for my foster family."
Now, 16 years on, Michael has made a career for himself in the Royal Navy and remains very much a part of his foster family.
"Michael is a big part of the family," said foster mum Sarah. "Being a foster carer is a two way relationship, you get back as much as you give."
Anyone interested in finding out more about becoming a foster carer, the support and training available and how to apply, can visit www.eastsussex.gov.uk/fostering
Information and advice for existing foster carers, including details of how to transfer to the local authority from an agency, is also available online as well as videos detailing the experiences of foster carers and their children.