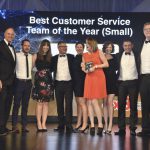 AN award-winning customer service team which deals with issues on East Sussex roads has landed another prestigious accolade.
The East Sussex Highways Customer Centre won gold in the best small customer service team award at the European Contact Centre and Customer Services Awards.
Judges were impressed by a switch to a new way of working which has seen average call response times slashed from 90 to nine seconds.
Staff are now split into geographical teams, allowing customers to deal with the same staff member throughout the length of their enquiry, while the public, staff and highways stewards all use the same software system, allowing a more 'joined-up' approach.
The award comes just a month after the customer centre won silver in the small contact centre in the UK Customer Experience Awards.
Meanwhile, East Sussex Highways also clinched a silver award in the best corporate social responsibility category for its work in the community.
Successes include a match funding community scheme, work with volunteer groups, staff citizenship days, employing apprentices, educating children in road safety and supporting local charities.
Cllr Nick Bennett, East Sussex County Council lead member for transport and environment, said: "This is another richly deserved accolade for the team, who do such a fantastic job in dealing with over 80,000 cases a year.
"Issues such as roads, street lights and grass cutting really matter to the public and it's important that people are able to have their issues dealt with as quickly and efficiently as possible."
"The corporate social responsibility award recognises the terrific work done by the Highways service as a whole in helping and providing additional benefits to local communities and offering training and employment opportunities."
The awards were handed out by BBC television presenter Fiona Bruce and Olympian Sir Steve Redgrave at a ceremony in London attended by more than 1,100 people from 17 countries across Europe.
Mike Egleton, Service Director said "We are delighted to receive these awards and gain the recognition for the team, and we are continuing to work on improving our customer experience.
"Providing local social value is a huge part of the work we do at East Sussex Highways and enables us to contribute towards local communities, whether that be through sponsorship, fund-raising or delivering projects on the ground."
The contact centre can be contacted on 0345 608 0193 while people can report and track incidents, find details of roadworks and more information about services online at www.eastsussexhighways.com