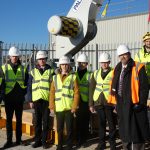 HUNDREDS of young people have been helped to gain a greater understanding of the world of work thanks to a scheme running across East Sussex.
The latest phase of Open Doors, which allows students from county schools to visit a variety of workplaces, saw 300 students from 18 schools make visits to 24 companies.
Businesses visited included museums, manufacturing firms, two vineyards, a hotel, offshore wind farm company and nuclear power plant.
The scheme is run by East Sussex County Council, supported by Skills East Sussex, the county's strategic body for employment and skills.
Since it launched in 2016, it has accommodated 75 visits by 452 young people to 35 different companies.
Cllr Rupert Simmons, county council lead member for economy, said: "The latest phase of Open Doors has once again provided a valuable opportunity for our young people to experience the world of work at first hand.
"The more knowledge and experience of business they have, the better chance young people have to be successful in their future educational and professional careers.
"All the feedback we've received suggests the visits to businesses proved extremely rewarding, not just for the students but for the businesses too."
Case studies – businesses which took part in the Open Doors scheme:
Sue Vincent, HR manager at Rampion Offshore Wind Farm, in Newhaven, said: "The team members found it very rewarding to share their experiences with the students and hoped they were able to inspire the young visitors."
Ellie Coffey, senior administrator at Horlock Holdcroft Financial Consultants, in Uckfield, said: "We were really pleased to take part in Open Doors for the second year running. We are delighted to help local schools and we see great value in educating students about lives beyond the school gates.
"Financial planning is an important part of everyone's lives, often overlooked by the younger generation, and we want to change that."
Richard James, Operations Manager at the Rathfinny Wine Estate, in Alfriston, said: "For us, Open Doors is a great initiative which allows school groups access to view and discuss our vast array of different jobs on the estate in an efficient manner.
"Open Doors is for a manageable school group and creates wonderful question and answer sessions between peers and our staff.  Open Doors opens eyes to career choices, different study options and career changes and development."