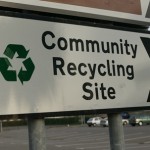 MEMBERS of the public are being asked for their views on options that will help the county's waste service save more than £500,000 in 2018/19.
Reductions in Government funding, and rising demand for services means East Sussex County Council has to cut £17 million from its 2018/19 budget. The waste service annual budget will be reduced by £720,000, of which savings of £558,000 will need to be made in 2018/19.
Rupert Clubb, the county council's director for communities, economy and transport, said: "We need to make significant savings this year to cover the funding gap, and have to look at the way we deliver all council services to ensure that we are fulfilling our statutory duties and protecting the most vulnerable.
"It costs nearly £10 million a year to run our 12 household waste recycling sites, and to recycle and dispose of the waste. A thorough review has highlighted areas where savings can be made, while maintaining a good service which allows residents to recycle as much as possible."
Proposals put forward for public consultation include;
The closure of two part-time household waste recycling sites in Forest Row and Wadhurst
Charging residents to dispose of soil, rubble, plasterboard, tyres and asbestos
Changing recycling site opening hours to better suit demand
Mr Clubb added: "The possible impact of the options put forward has been considered. We want to make sure waste is kept to a minimum and recycling rates remain high, while the service operates within its limited budget.
"We don't expect a reduction in the recycling rates as a result of any of the proposals, and there is no clear evidence to suggest that the measures will increase fly-tipping."
He said: "We now need to understand how people think these proposals will affect them, and I would encourage residents to look at the detail of the proposals and make their views known during the 12-week consultation period."
Taking into account feedback from the consultation, final proposals will be presented to Cabinet later this year for discussion and approval.
Residents can give their views by completing the online survey by midnight on Tuesday, May 15, 2018 at www.eastsussex.gov.uk/haveyoursay
To request the consultation document in a different format, call 0345 60 80 194 or email waste@eastsussex.gov.uk
Ends