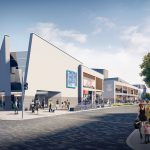 WORK is due to begin on an ambitious scheme aimed at transforming and modernising Eastbourne town centre.
Contractors Mildren construction will commence work on Monday, March 12 2018 on the second and most significant phase of the £6.2 million Eastbourne Town Centre Improvement Scheme.
The scheme, a joint project between East Sussex County Council and Eastbourne Borough Council, is aimed at modernising the town centre, improving pedestrian conditions and attracting more visitors.
It will include the installation of new bus lanes, bus shelters, a high-quality granite road surface and new paving, seating and landscaping in Terminus Road, Cornfield Road and Gildredge Road.
The changes, which complement the redevelopment of the Arndale Centre, will drastically reduce traffic in the section of Terminus Road known as 'Diesel Alley', allowing the pavements to be doubled in width.
During the opening weeks of the scheme, which is due to be completed by summer 2019, the contractor will be staffing a spare unit in the Arndale Centre to answer any questions from the public and local businesses.
Cllr Nick Bennett, East Sussex County Council lead member for transport and environment, said: "A lot of work has gone in to creating a really exciting scheme which will have huge benefits for Eastbourne.
"The changes will allow us to reduce traffic and pollution and create a more pedestrian-friendly environment along Terminus Road."
The scheme will see westbound buses currently using stops in Terminus Road relocated to Gildredge Road, where a bus lane will be introduced.
Terminus Road will be narrowed to one lane between Gildredge Road and Cornfield Road, accessible to eastbound buses only, which will stop in Cornfield Road.
The scheme will also see a 20mph zone introduced in the principal roads and streets leading off them and new parking restrictions, including moving on-street parking in Gildredge Road to the east side of the road.
Cllr David Tutt, Eastbourne Borough Council leader, said: "These changes will dramatically transform the heart of the town, creating a pleasant, modern, attractive environment for everyone to enjoy.
"The improvements, along with the Arndale redevelopment, should play a big role in attracting more visitors to the town centre, increasing trade and boosting the local economy."
The major portion of the work is expected to be completed by late autumn, with a pause for the busy festive period before work resumes in January 2019.
The first phase of the scheme, which included a new taxi rank and improvements to the entrance to Eastbourne Railway Station, was completed in 2015.
More information is available on the Eastbourne Town Centre Improvement Scheme website at www.eastsussexhighways.com/etcis