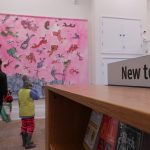 ARTWORK designed by a world-renowned illustrator has been unveiled as Hastings Library opened its doors following a multi-million pound revamp.
Local resident and celebrated artist Sir Quentin Blake's work adorns the Children's Library, which relocated to the Brassey Institute as part of the major project.
The 12 foot long frieze depicts the town's historic Stade and other local scenes, with young readers suspended in mid-air engrossed in their books – all drawn in his unmistakeable style.
Cllr Bill Bentley, lead member for community services, said: "We are extremely grateful to Sir Quentin Blake for kindly donating the artwork to our new, modern library. It's a wonderful backdrop which I hope will fuel a love of reading among young people in the town."
Speaking about the frieze, Sir Quentin Blake said: "I am deeply convinced of the importance of young people reading: they can be guided to valuable books, but it is also a way of their pursuing their own explanations, and creating their own education.
"We can say, metaphysically, that books allow them to fly, which is why I drew them actually flying on their books – and happily that could be over Hastings fishing beach, so we know where we are."
Hastings Library reopened on Friday, March 2 2018, following the project which has seen the historic building at the heart of the town protected and enhanced.
A new roof and lift were installed, the building was rewired and all lighting was replaced before the addition of new furniture, more computers and improved toilet facilities and the introduction of free WiFi.
"The transformation is incredible," Cllr Bentley added. "But it has not been an easy task and I would like to thank the public for their patience during the project.
"We have renovated the Grade II listed building, carrying out work on areas where there has been no maintenance for 140 years. What we have created is a modern and vibrant library which will serve generations to come."
The library will host a range of children's activities including Code Clubs, Rhyme time and Storytime, while adults can join IT For You to develop computer skills or ask for help in a Computer Buddy session.
In addition to offering a wide range of books to borrow, the library will hold a range of reference information for study of the local area, as well as DVDs and health and wellbeing resources.
The public computers provide free access to the internet, training courses, online reference materials, research programs for family history.
Learning services will now operate from their own dedicated computer suite on the second floor, providing opportunities to improve literacy, numeracy and computer skills.
For information about opening hours and services available at Hastings Library visit www.eastsussex.gov.uk/libraries