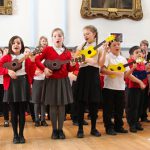 More than 800 primary school children from across the county showcased their musical talent at special festival organised by East Sussex Music.
Youngsters from 17 local schools played tenor horns, recorders and ukuleles to packed audiences at Lewes Town Hall and Eastbourne Kings Centre as part of the First Access Festival.
The pupils have been learning to play a range of instruments in their classes with the help of professional teachers from East Sussex Music, and were given the chance to show off their instrumental prowess to parents and carers.
Inga Elphick, Year 4 class teacher at Harbour Primary School in Newhaven, said: "The children get such pleasure from performing on their ukuleles and singing as a whole class; being involved leaves them feeling very happy and proud of themselves."
As well as the concert, children taking part in the festivals on Thursday, March 8 and Friday, March 9, took part in a stomp-style body percussion and singing workshop.
A Level students from the East Sussex Academy of Music also attended the events to share inspirational recitals and encourage children to take part in a Learn to Play Day at Eastbourne Music Centre, where they were able to try out a host of instruments from cello to piccolo.
To find out more about East Sussex Music and the services, courses and events they offer, visit www.eastsussex.gov.uk/music or call 01273 336770.