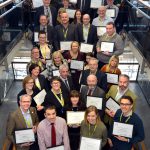 BUSINESSES which are helping to boost the career prospects of young people have been recognised at a ceremony in East Sussex.
The event, at County Hall, in Lewes, celebrated the role of the first 27 companies and individuals to be accredited under East Sussex County Council's 'Industry Champions' scheme.
The initiative sees businesses offer their time to represent their industry to young people and deliver activities in schools and colleges around the county.
Certificates and a 'digital badge' which can be displayed on company website are awarded to businesses which deliver activities on at least three occasions during a year.
These may include giving talks, presentations or workshops, mentoring young people, taking part in careers fairs or options evenings or offering work experience or apprenticeship opportunities.
The scheme is part of the council's strategy to improve young people's career prospects through the local employment and skills partnership board 'Skills East Sussex', which the council facilitates.
Other Skills East Sussex initiatives have included appointing Enterprise Advisers from local businesses to work with individual schools, and the Open Doors project, which sees students visiting businesses to learn more about the world of work.
Cllr Rupert Simmons, East Sussex County Council lead member for economy, said: "This is another important step in our drive to build ever stronger links between businesses and schools in the county.
"The more interaction young people have with the world of work, the better chance they have of building a successful future for themselves in their educational and professional careers.
"I was very impressed by the passion, enthusiasm and commitment shown by the Industry Champions, who give up their time to help young people develop their skills and knowledge and to embark upon a bright future."
Any businesses interested in working with schools and colleges as an industry champion are asked to contact the council's enterprise co-ordinators by emailing EnterpriseCoordinator@eastsussex.gov.uk
A video showing some of the Industry Champions can be viewed at https://youtu.be/mF_H8ZvNMwU