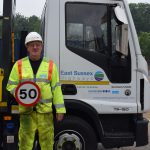 WHEN Mick Bishop began working on the roads of East Sussex, the Beatles were in their prime, Harold Wilson was at number 10 and the England football team ruled the world.
Half a century on, Mick – now 66 – is still a valued member of the team at East Sussex Highways, but things have changed a bit over the years.
"It was hard, physical work in those days," he said. "We didn't have all the machinery we have today so everything was done with picks and shovels.
"That's been the biggest change – the technology has made the job easier for everyone. That, and the fact that there's a lot more health and safety these days."
Mick, from Eastbourne, first joined East Sussex County Council's roads crews as a 17-year-old fresh from school, following in the footsteps of dad Bill – his first foreman.
Having 'done a bit of everything' – from laying asphalt to kerbing, drainage, gritting, building walls and driving HGVs and diggers – he's keen to pass on his knowledge to colleagues less long in the tooth.
He said: "The younger ones don't know what it was like back in the old days and when I tell them we used to do things like kerbing by hand, they can't believe it.
"It's nice when you go around the county and see various roads and things and you think: 'I worked on that.' I take a lot of pride in my work and I always have done."
Mick, who grew up in rural Wilmington and still relishes working in the fresh air, recently moved from the Ringmer depot to Heathfield, where his experience is still in demand, according to operations supervisor Chris Ford.
"He' a lovely guy," said Chris. "He turns up every day and goes about his business quietly, and he'll always help anyone out if he can.
"It's a real benefit having someone with such an in-depth knowledge of East Sussex, and we put the apprentices and new starters with him so he can pass that knowledge on.
"At his age, he could retire and take up a hobby if he wanted, but he still really enjoys it and for Mick I think this is as much a hobby as it is a job."