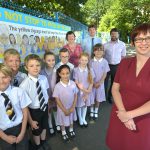 CHILDREN from Hastings employed their artistic flair to raise awareness of parking issues outside schools.
Youngsters from four schools in the town produced pictures of their classmates which have been used on banners urging parents to park responsibly when they drop off and pick up their children.
The banners, which bear the slogan 'Don't stop to pick up and drop' were devised after parking contractor NSL noticed a problem with parents parking illegally on zig-zag lines outside schools.
The project was funded by the Hastings Joint Action Group, which includes representatives from East Sussex County Council, Hastings Borough Council and Sussex Police.
Jeremy Wassell, customer and stakeholder manager at NSL, said: "We receive a lot of complaints from the public about dangerous or anti-social parking around schools, putting children's safety at risk.
"We hope the banners will help to raise awareness of this issue, and by getting the children involved, will encourage families to talk about the importance of parking responsibly."
Cllr Nick Bennett, East Sussex County Council lead member for transport and environment, said: "People who park illegally outside schools are putting children's safety at risk.
"This is a really imaginative way of highlighting this issue and reinforcing the message that parking restrictions around schools are there for a reason and there's no excuse for ignoring them."
The banners are being displayed at Ark Blacklands Primary Academy, Baird Primary Academy, Christ Church CE Primary and Nursery Academy, St Mary Star of the Sea Catholic Primary School – four schools which have seen a particular problem with illegal parking.
Natalie Rankin, Head of School at Ark Blacklands Primary Academy, said: "Parking outside the school is an ongoing concern for us and we have had several parents tell us about near misses recently. The safety of children is our primary concern and I do not want there to be an accident.
"We welcomed the chance to take part in this project and our year three children really enjoyed using their art skills to try and improve safety. They were delighted with the end result and gave a big cheer when they saw the banner."