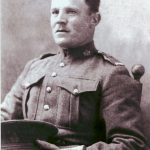 A 'FEARLESS' soldier who bravely charged through a barrage of gunfire during a First World War battle will be commemorated with a permanent memorial.
Hastings-born Claude Nunney was posthumously awarded the Victoria Cross – the highest decoration for valour from the British Army, for his actions in battle on September 1 and 2, 1918.
On Sunday, September 2 2018, in a ceremony organised by East Sussex County Council in partnership with Hastings Borough Council, the Lord Lieutenant of East Sussex will unveil a Victoria Cross paving stone at the War Memorial in Alexandra Park.
The event, which marks 100 years since the soldier was wounded, is part of a series of commemorations of VC holders from East Sussex held to mark the centenary of the conflict.
Cllr Keith Glazier, leader of East Sussex County Council said: "Claude Nunney is the only Hasting's-born soldier to have received the Victoria Cross during the First World War.
"He showed great bravery in inspiring his comrades to victory despite coming under heavy fire in a battle that ultimately claimed his life. It is only right that the sacrifice he made be remembered for generations to come."
Claude Nunney was born on July 19, 1892, and lived at 42 Bexhill Road in Hastings as a child.  After his mother died, he and his siblings were passed into the care of the Catholic Church and eventually became "Home Children" in Canada.
He became one of the very first to enlist into the newly authorised regiment in Ottawa, known at the 38th Canadian Expeditionary Force (CEF) and was recognised several times for his bravery – earning both the Distinguished Conduct Medal and Military Medal in 1917.
But it was for his part in the attack on the heavily fortified German defensive trench systems, known as the Drocourt-Quéant Line at Dury, on September 1 and 2, 2018 that earned him the Victoria Cross.
During the attack Private Nunney encouraged his comrades to victory under heavy enemy fire.  He was wounded in the face and neck and eventually died of his wounds on September 18, 1918.
The London Gazette reported his actions, saying "his dash continually placed him in advance of his companions, and his fearless example undoubtedly helped greatly to carry the company forward to its objectives".
The memorial VC paving stone in Alexandra Park will be unveiled at a ceremony which will include the reading of 'In Flanders Fields' by family member Tim Nunney. Members of the public are welcome to attend to witness the ceremony and pay their respects following the unveiling.