THE Duke and Duchess of Sussex discussed the issue of mental health as they met young people from youth forums across East Sussex during their first joint official visit to the county.
The royal couple today (October 3 2018) visited the East Sussex County Council-managed Joff Youth Centre, in Peacehaven, where they met 50 young people gathered from youth groups around the county, including the elected Youth Cabinet.
The young people spoke to the Duke and Duchess about how younger generations are taking an active role in decision-making around mental health and emotional wellbeing.
East Sussex members of the UK Youth Parliament Libby Russell, 16, from Hailsham, and Indya Wardle, 15, from Eastbourne, took a leading role in hosting the royal couple's visit.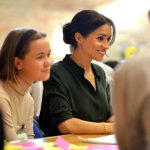 Libby said: "We found the couple's visit really encouraging and it was great that they could see how young people across East Sussex work together in a productive way to make a difference to young people's mental health. Young people are not apathetic and when we are supported to influence positive change, we're ready to do it."
Indya added: "We were really proud to show the Duke and Duchess our Top Ten Tips for schools around mental health, which gives simple ideas of how young people can be supported in schools. Their visit has helped us to promote the important issue of mental health and emotional wellbeing for young people."
Those present talked to The Duke and Duchess about work being done to promote good mental health, while the couple also chatted privately with young people about their own personal experiences.
The young people present were preparing for this year's Takeover Challenge Day – a national initiative from the office of the Children's Commissioner which encourages organisations to give young people a role in real-life decision making – on November 23 2018.
The theme in East Sussex this year is mental health and emotional wellbeing, with a focus on ways young people can help each other and themselves.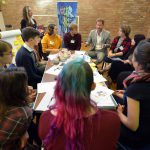 A survey of year 10 pupils in East Sussex carried out last year showed 63 per cent were happy with their lives, compared to 69 per cent five years earlier. They reported that issues they worry about most include exams and school work, their looks and family problems.
The Duke and Duchess, who earlier in the day visited Chichester and Brighton, were greeted in Peacehaven by East Sussex County Council Chairman Cllr Peter Pragnell and Chief Executive Becky Shaw
Cllr Pragnell said: "It was great to see the royal couple taking such an interest in the work young people are doing, which is making a real difference in improving understanding of mental health issues and helping young people to help themselves to improve their mental health."