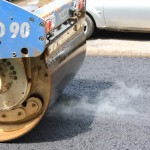 MOTORISTS in Heathfield are being advised of road closures as the town's high street is reconstructed.
The work, which is expected to start on November 2, will take four weeks to complete and has been split into phases to minimise disruption.
The first three phases will involve the road being reconstructed and surfaced, while phase four will be a surface treatment repair to the footway. A total of 19 streetlights will also be replaced during the work.
Cllr Nick Bennett, East Sussex County Council's lead member for transport and environment, said: "This essential work will enable us to ensure a smoother, safer drive for motorists, improve the look of the high street and provide a safer footpath at the Marshlands Lane end of the High Street.
"Disruption is inevitable with a scheme of this size but we have tried to minimise this by carrying out the work in phases. By doing this we can make sure residents and visitors to the High Street continue to have access and businesses can remain open as usual.
"We will also be replacing streetlights while the road is closed to avoid further disruption in the future."
He added: "We appreciate that there may be concerns about the timing of these works, and we want to assure residents and businesses that they will be completed before the busy festive period begins."
During the first phase, due to be carried out between November 2 and November 12, the road will be closed from the fire station to the bus stop before Streatfield Road. A small section of Tilsmore Road, from its junction with Mill Road will also be closed.
Work will be carried out across the entrance to Co-op on November 10 and 11. Access will be maintained but motorists may face delays getting into and out of the car park.
The second phase is expected to be carried out between November 13 and November 20. The road will be closed from the bus stop before Streatfield Road to shortly before the junction with Cherwell Road.
Phase three will see the road closed from its junction with Cherwell Road to Heathfield Library. This work is due to be carried out between November 21 and November 30.
Between November 27 and November 28, work will also take pace to resurface the footpaths in the High Street between 1 High Street and Marshlands Lane.
Road closures will be in place 24 hours a day. Traffic will be diverted via Tower Street and A267 Little London Road. HGVs will be diverted via Boship Roundabout.
Bus users are encouraged to check with bus operators about alterations to services during the work.
More information about roadworks and updates are available on the East Sussex Highways website at www.eastsussexhighways.com
Ends