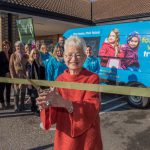 A LEADING children's author who based a series of books in the care system has given her backing to the latest drive to recruit foster carers and supported lodgings providers.
Dame Jacqueline Wilson, author of the Tracey Beaker series and patron of the Foster Care Association for East Sussex, helped East Sussex County Council's fostering service officially launch its information van which will be touring the county.
The popular novelist also signed 10 copies of her latest book for a prize draw to mark the occasion.
The branded vehicle will enable officers to visit a different part of the county each week to promote the service, share information about fostering and supported lodgings, and answer questions from prospective applicants.
Cllr Sylvia Tidy, the county council's lead member for children and families, said: "We are very lucky in East Sussex to have a wonderful group of foster carers and supported lodgings providers who are helping to transform the lives of young people across the county.
"But we know that, with more carers, we can help even more children and young people who have not had the most positive start in life. The van will help us spread the message and answer any questions people might have about getting involved."
She added: "I'm delighted that our efforts have won the backing of an author as distinguished and respected as Jacqueline Wilson.  This will certainly help us spread the word and promote the service."
With more than 50 children waiting for a placement at any one time, East Sussex County Council has taken steps to encourage more people to consider registering with the service by making information about foster care and supported lodgings more readily available.
A revamped website makes accessing information easier, and the new information van will enable officers to have more face-to-face discussions about the challenges and rewards of being a foster carer or supported lodgings provider.
There is more information and a schedule of where the van will be located at www.eastsussex.gov.uk/fostering  and  www.eastsussex.gov.uk/supportedlodgings
Please call 01323 464129 or text FOSTER to talk to us about fostering or call 01424 726155 or text SUPPORT to 80011 to talk to us about Supported Lodgings.
Residents will also be able to keep up-to-date on Facebook @eastsussexcountycouncilfosteringservice or on Twitter @fosterforESCC
To be entered into the prize draw to win one of ten signed copies of Jacqueline Wilson's latest book My Mum Tracey Beaker – like and share our post on the fostering service Facebook page at www.facebook.com/EastSussexCountyCouncilFosteringService before midnight on Friday, November 16, 2018.
Ends.