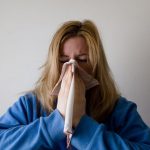 PEOPLE at risk of flu are being urged to take advantage of the free vaccination available on the NHS – before winter kicks in.
The flu jab, which is available to people aged 65 years and older, pregnant women and people with long-term health conditions, offers the best protection against the disease and any related complications.
For the first time this year, the vaccine is available for free in nasal spray form to year five children aged nine and 10, meaning children from two to 10 are now eligible.
While there was an increase in levels of vaccination in at-risk groups last winter, uptake was still lower than expected, leaving more people at risk of needing treatment.
Darrell Gale, East Sussex Director of Public Health, said: "Flu is a very unpleasant illness and vaccination is particularly important for people at increased risk of the effects of the disease.
"Cold weather can be very harmful – particularly for over 65s – weakening the immune system and lowering body temperature, which increases the risk of getting flu.
"Getting the vaccine is a quick, simple procedure which is the best way people can protect themselves against the unpredictable flu virus and any more serious complications which could result.
"Now is the best time to get vaccinated – before the start of the flu season – and it's important that people have the vaccine even if they had it last year, as it protects against different strains which can change and evolve each year."
The vaccine is also available to carers of older or disabled people, people with reduced immunity, those who are very overweight, residential care home residents and frontline health and social care staff.
Symptoms of flu, which is spread by coughs and sneezes or touching surfaces on which germs have landed, include fever, chills, headaches, aches and pains in joints and muscles and extreme tiredness. However for some the disease can lead to hospitalisation, permanent disability or even death.
People in at-risk groups can get the flu jab by talking to their GP or practice nurse or local pharmacy.