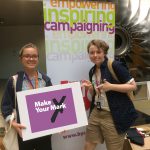 A NATIONAL youth body will debate homelessness in the House of Commons, after a motion proposed by an East Sussex member earned the backing of young people across the country.
The motion put forward by UK Youth Parliament member Indya Wardle, from Eastbourne, received more than 120,000 votes in the national Make Your Mark ballot.
The issue will now be debated when members sit in the House of Commons in November to decide which of the issues will be selected as their priority campaign for the year ahead.
In East Sussex, more than 12,000 young people – almost a quarter of 11 to 18-year-olds – voted, an increase of more than eight per cent on last year and the biggest turnout to date.
Indya, 15, said: "It's great to see homelessness being recognised as an issue by young people across the country, which highlights what a growing problem it is and that we need to address it.
"I look forward to taking part in the debate in the House of Commons and hope we can make a real difference, whichever issue is chosen by the Youth Parliament for its campaign."
Homelessness won the third highest number of votes in East Sussex where, mirroring the national results, ending knife crime and improving mental health services for young people ranked as the top two priorities.
The county council is delivering a knife crime awareness project in Hastings aimed at providing workshops to young people, support for parents and carers, and training for local organisations that work with young people.
The project focuses on the issues of knives and other weapons, educating young people to make safe choices and working with parents and carers to understand the dangers and give them information and strategies to discuss this with young people.
The number of young people voting in Make Your Mark topped one million for the first time since the scheme launched in 2014 – making it one of the largest youth consultations of its kind in UK history.
The newly-elected East Sussex Youth Cabinet will decide which of the issues voted on to make their top campaigning priorities when they begin their term of office in December.
Cllr Sylvia Tidy, East Sussex County Council lead member for children and families, said: "It's great to see such a high turnout this year, which shows that far from being apathetic, our young people want to get involved and to try and make a difference to the issues that reflect their lives."Number of votes cast in East Sussex (total 12,166):
Number of votes cast in East Sussex (total 12,166):
1 – End Knife Crime – 2,406
2 – Mental Health – 1,889
3 – Homelessness – 1,600
4 – Equal Pay, Equal Work – 1,451
5 – End Period Poverty – 1,232
6 – Votes @ 16 – 952
7 – Curriculum for Life – 845
8 – Transport – 838
9 – Welcome Refugees – 652
10 – Support Youth Services – 242
(59 spoilt votes)