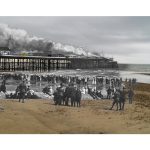 A PROJECT memorialising the role East Sussex played during the First World War has come to a close at the end of the centenary.
Since its launch in August 2014, photographs and stories of valour, sacrifice and wartime life have been published on the East Sussex World War One website, attracting more than 188,000 visitors from countries across the world.
Stories of bravery posted on the site include those of four soldiers born in East Sussex who were awarded the Victoria Cross for heroism on the battlefield, of 19-year-old Private Frank Taylor, Bexhill's first Territorial to die during the First World War, and Iva Mary Harland from Framfield who served in the Women's Army Auxiliary Corps.
The start of the East Sussex County Council project coincided with the 100th anniversary of Britain's entry into the conflict, and it comes to a close on the centenary of the end of the First World War.
A final article was published on the website the day after Remembrance Sunday, looking back at all that has been achieved by the project. One of the aims of the project was to encourage local people to post their memories and stories, and 97 of the 174 stories published were provided by members of the public.
Cllr Keith Glazier, Leader of East Sussex County Council, said: "It's extremely important that we remember the sacrifices made by the men and women of this county during the First World War.
"The boundary between the home front and the battle grounds was blurred in East Sussex more than anywhere else in Britain. The sound of guns in France could regularly be heard from our coast and soldiers from around the world were stationed in our county.
"The East Sussex World War One website has given us the chance to share amazing stories, photographs and memories of what life was like in the county during the conflict."
He added: "It's been wonderful to see the site grow, providing a wealth of fascinating information, and great to see local people get involved and share their own stories."
As well as stories about the bravery of soldiers fighting on the frontline, the website contains details of the support provided by those who remained in East Sussex, digitised versions of East Sussex newspapers published during the war, resources for schools, and 'then and now' photographs merging shots of East Sussex locations during the war with contemporary scenes, produced by Hastings-based photographer Kieron Pelling.
Last year scans of propaganda posters unearthed in the archives of East Sussex Libraries were also added to the site.
The East Sussex World War One website can be found at www.eastsussexww1.org.uk
Ends.