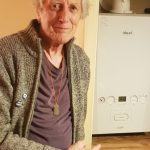 VULNERABLE people who struggle to heat their home can benefit from a free service which offers advice and support to help them keep warm during the winter.
The Warm Home Check service provides a home visit to people on low incomes who are older, have children, are disabled or have a long-term health condition, or are in receipt of certain benefits.
Those eligible receive an assessment of their home to identify ways to keep warm, small works such as boiler repairs or improving insulation, emergency temporary heating and energy and money-saving advice.
In some cases the service may be able to offer installation of new boilers, central heating or home insulation.
East Sussex County Council has recently appointed RetrofitWorks – a co-operative which works with trusted locally-based heating and insulation installers – and Citizens Advice East Sussex to run the service.
Darrell Gale, East Sussex Director of Public Health, said: "As the dark nights start to draw in, it's a good time for vulnerable people to think about whether their home is warm enough this winter.
"Cold weather increases the risk not just of coughs, cold and flu but of high blood pressure, heart attacks and strokes, and on average we see over 25,000 avoidable deaths a year in England as a result of the cold.
"The free Warm Home Check has made a real difference to the lives of those receiving it, so I'd urge anyone who may be eligible to request a visit as soon as possible.
"There are also some simple tips people can follow to ensure their home is warm enough and to reduce their risk of getting ill this winter."
People are urged to keep their home heated to at least 18C (65F), draw the curtains at dusk to keep heat in, keep bedroom windows closed on winter nights and ensure radiators are not blocked.
They should also have at least one hot meal a day and plenty of hot drinks, and are advised to get up and stretch their legs, as it's best not to sit still for more than an hour or so.
Anyone vulnerable to the cold and in need of advice or support to keep their home warm can contact the Warm Home Check service.
People who may be eligible for a free Warm Home Check visit can arrange one by enquiring online at www.warmeastsussex.org.uk, texting WARM to 81400 or calling 03444 111444.
Residents can also sign up for warnings of impending severe weather via the coldAlert service online at coldalert.info or by calling 01273 484337.
Case study – new boiler hits right note for musician
Al Spencer (pictured), a 73-year-old musician from Wadhurst, suffers with bronchitis and used to shiver his way through the winter in a home heated only by a wood burner.
As a result of the Warm Home Check service, he has now had a full central heating system installed and has also been able to save £140 a year on his gas bill by switching his energy supplier.
He said: "I used to suffer dreadfully with the cold and had to wear thermals, a thick coat and a woolly hat and have a blanket over my legs to try and keep warm. I'm a positive person but it made me really miserable.
"I was even thinking about moving house but now I don't have to. It's like a weight has been lifted off me and I've got a big smile on my face. I feel very lucky and grateful.
"To anyone who's thinking about whether to have the Warm Home Check, I'd say go for it – grab it with both hands."