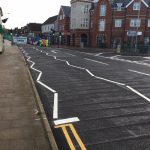 A MAJOR road improvement scheme in Heathfield town centre has reached its final phase and is on course to be completed on schedule by the end of the month.
East Sussex Highways began work on November 2 2018 in the High Street, which is being reconstructed and resurfaced.
The first two phases of the scheme, from the fire station to shortly before the junction of Cherwell Road, will be completed on schedule and work is beginning today (Wednesday, November 21 2018) as planned on the third phase of the scheme.
The last section sees the road closed between Cherwell Road and Heathfield Library, while alongside this section, resurfacing of a section of pavement will also take place.
Cllr Nick Bennett, East Sussex County Council lead member for transport and environment, said: "We fully appreciate the concerns business owners have had about the timing of these roadworks, but we've received some really positive feedback from traders about the quality of the work and professionalism of our staff.
"The foundations of the road are crumbling, therefore it's vital that we carry out urgent repair work before winter sets in, to ensure the road is safe and to avoid greater disruption further down the line.
"It's testament to the hard work and dedication of our crews that we're on schedule and able to reopen the High Street section by section as each stage progresses.
"I'd like to thank traders and residents for their patience and understanding and hope that they can see the difference the work is making. We look forward to seeing the road completely reopen in time for the beginning of December 2018."
More information about roadworks and updates are available on the East Sussex Highways website at www.eastsussexhighways.com