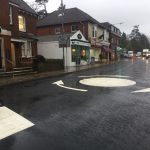 A MAJOR roadworks scheme in Heathfield town centre finishes today (Wednesday, November 28 2018) – two days ahead of schedule.
Work to reconstruct the High Street is finishing early despite the discovery during the work of a significant issue with a leaking water main, which threatened 'serious failure' to the road if not dealt with.
Elsewhere along the high street contractors discovered underlying weaknesses in the foundations of the road, many of which resulted from previous utility company repairs.
East Sussex Highways said this highlighted why the scheme had to be completed before severe winter weather took hold, as otherwise it would have led to more complex, costly and disruptive roadworks.
The project has seen the High Street reconstructed and resurfaced between the Fire Station and Library, and a section of pavement resurfaced. New street lights were also installed, taking advantage of the road closure.
Cllr Nick Bennett, East Sussex County Council lead member for transport and environment, said: "We're delighted to have been able to finish early, despite a significant issue with a leaking water main.
"The water leak had led to part of the foundation of the road being washed away, which would have led to serious failure, and more disruption for traders and residents, if we hadn't fixed it now.
"By working in collaboration with utility companies we've been able to repair the water main and a number of voids beneath the road and complete the work, which has created a safer, smoother and more attractive High Street.
"We know the work has caused some disruption for town centre businesses and we really appreciate their patience and understanding over the past three and a half weeks.
"We've received some really positive feedback from traders and residents about the professional and considerate way our contractors went about their business and I'd like to thank everyone involved for their efforts.
"I hope people in Heathfield are pleased with their new road, which has really improved the look of the High Street as we head into the Christmas season."
Highways crews are putting the finishing touches to the High Street works today and will pack up and leave overnight with the road fully open from tomorrow (Thursday, November 29 2018).
People can find information about East Sussex Highways roadworks and report any issues online at www.eastsussexhighways.com