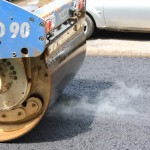 IMPROVEMENT work on a busy road between Crowborough and Rotherfield will result in a smoother and safer drive for motorists.
Work to resurface Rotherfield Road from its junction with Crowborough Hill to its junction with Cottage Hill begins on Monday, March 18 2019, with overnight road closures needed for part of the scheme.
From Monday until Friday, March 22 2019, work to replace kerbs will begin and the road will remain open with temporary lights in operation.
From Monday, April 1 to Thursday, April 18 2019, the road will be closed between 8pm and 6pm for resurfacing work.  A diversion will be in place during this time.  Temporary lights may be in place during the day while additional work is carried out.
Finally, work on the kerbs will be completed between Tuesday, April 23 and Friday, May 17 2019.  The road will be open to traffic but temporary lights will be in operation.
An East Sussex Highways spokesman said: "Carrying out this work will enable us to provide a safer and smoother drive for motorists using this popular road.
"Any work of this scale will inevitably cause disruption, but we will keep this to a minimum by carrying out the resurfacing work overnight."
Access will be given to residents, where possible, while road closure is in place, but this may be subject to delays. A signed diversion route using the A26, A272 and A267 will be in place.
More information about planned roadworks is available on the East Sussex Highways website at www.eastsussexhighways.com