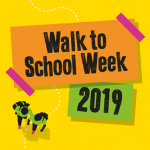 PARENTS in East Sussex are being urged to play their part to reduce carbon emissions and cut congestion – by encouraging their child to walk to school.
East Sussex County Council is backing national Walk to School Week, which runs from May 20 to 24 2019 and promotes the environmental and health benefits of ditching the car for the school run.
A generation ago, 70 per cent of us walked to school – now the figure is less than half, with school journeys by car responsible for generating two million tonnes of CO2 per year.
Walking to school could also improve children's health, with 17 per cent of year six children in East Sussex classed as obese according to the most recent figures.
Karl Taylor, East Sussex County Council assistant director for operations, said: "The more of us who drive our children to school, the more it impacts on their health and the environment.
"During the morning rush hour, one in five cars on the road is taking children to school, clogging up roads and increasing pollution.
"There is also a lot of evidence walking improves physical and mental health, and that children who walk do better in class because they arrive refreshed, fit and ready to learn.
"We'd encourage parents who usually drive their children to school to give walking a try during Walk to School week – they may find it becomes a habit that sticks."
Parents are urged to teach their child road safety skills to keep them safe, and if they live in rural areas to equip them with sturdy shoes or wellies and take their school shoes in a bag.
Walk to School week is an annual national initiative, organised by the walking charity Living Streets.