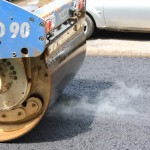 WORK on a new road which will act as a catalyst for regeneration in Newhaven has been given the thumbs up from industry standards experts.
The progress of Newhaven Port Access Road was rated exceptional or excellent in all areas following an inspection by the Considerate Constructors Scheme, an independent not-for-profit organisation which monitors registered construction sites and companies.
The body found contractor BAM Nuttall to be excellent at respect for the community, protecting the environment, caring about the appearance of the site and valuing the workforce. They found site safety to be exceptional.
Rupert Clubb, director of communities, environment and transport at East Sussex County Council, said: "We are pleased that the efforts of those working on the Newhaven Port Access Road have been recognised. It's important that residents can have confidence that our contractors work to the highest possible standards.
"The road is a hugely important scheme which will open up land already allocated for development and play a major role in boosting economic growth by creating much-needed jobs for people in the Newhaven area."
The inspection by the Considerate Constructors Scheme found that "support to the community was at an excellent level" with the team acknowledging that "consideration to all affected is paramount".
Contractors were praised for their use of boats for material deliveries – keeping traffic off the roads and minimising disruption – and keeping residents informed of any footpath closures. The report also highlighted the dedication to safety on the site and the support given to workers to maintain the highest standards.
The scheme, an integral part of the Newhaven Enterprise Zone, involves the construction a new single carriageway with a bridge crossing the Seaford to Newhaven Railway Line and Mill Creek.
It is being funded by a £10 million grant from the Department for Transport and £13.2 million from the county council's capital programme – money set aside for one-off projects.
Construction started in January 2019 and is expected to be completed by the autumn of 2020. Once complete, the road will create a direct access to the East Quay and allocated development land, open up 80,000 sq m of business space, allowing the creation of new jobs.