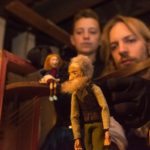 LIBRARIES are being brought to life for groups of East Sussex schoolchildren with the help of miniature puppets.
The Book Folk have been making an appearance at all 17 of the county's libraries, inspiring youngsters to use their local library.
The show, Between the Books, follows a group of puppets who live among the bookshelves, wake up when the library closes and spend their nights reading and looking after the books.
By the end of the project, funded by Arts Council England, theatre group In The Bellows will have performed to around 900 four to seven-year-olds from 35 schools across 38 sessions.
Cllr Bill Bentley, East Sussex County Council's lead member for communities and safety, said: "Between the Books is a great way to introduce children to the library and how it works and encourage them to become avid readers.
"I hope the sessions inspire young people to discover a love for reading and make the most of their local libraries."
The project so far has received positive feedback, with one teacher saying: "I can't think of a better way to get KS1 children enthusiastic about the borrowing of books from the library."
By the end of their session, children will have successfully joined the library, received their membership card, and borrowed a book.
Ends.