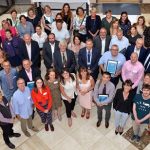 COUNCIL and education leaders are celebrating a year of successes from a scheme aimed at improving careers advice and support for students across the county.
East Sussex Careers Hub launched in 2018 to link secondary schools, special schools and colleges with employers, further education providers and universities to improve aspirations enable students to learn about the world of work and make informed choices about their futures.
One of only 20 pilots set up across the country as part of a Government strategy, the county's Hub has chalked up a list of achievements which were celebrated at a special event on Thursday, July 4.
Cllr Bob Standley, East Sussex County Council's lead member for education and ISEND, said: "The Careers Hub has been invaluable in giving students a head start with their future careers and we are extremely proud of its success.
"In its first year the Hub has been responsible for significant improvements in careers support and employability in the county with a series of successful and innovative projects and work experience opportunities."
Since the launch of the Hub, all schools and colleges have made progress against the Gatsby benchmarks, which define excellent careers education.
Achievements, made with the help of career leaders in schools, include;
• More than 550 students visiting 48 businesses to learn about the world of work as part of the Open Doors scheme
• In an extension of Open Doors, 120 Year 9 pupils from Hastings schools commuted to Canary Wharf in London, where they were hosted by some of the world's biggest multinationals, including Citi Bank, ANZ Bank, Clearstream, Fitch Ratings and Barclays
• More East Sussex businesses have signed up to the national Give an Hour campaign than any other area outside London. The campaign encourages business people to spend an hour in a school supporting its careers provision
• The county now has 130 Industry Champions from local businesses who have committed to visiting schools to take part in mock interviews, deliver careers talk and activities
• The number of students undertaking work experience has increased by more than nine per cent from 2,929 in 2017/18 to 3,230 this academic year
• Apprenticeship Roadshows have enabled over 560 young people and parents/carers to meet with employers and training providers offering apprenticeships.
The Hub is delivering training for careers leaders in schools, as well as subject leaders, to support them to embed careers in the curriculum. They are working with STEMSussex to look at how career-related learning can be included in the science and maths curriculum, and working with the University of Sussex to develop better links with schools.
As a further endorsement of the Hub's success, the county council is the only local authority to have been awarded £145,000 funding to improve careers education in primary schools; and has secured funding for the appointment of a Special Educational Needs Enterprise Coordinator to work with special school to improve outcomes and aspirations of young people with special needs.
Cllr Rupert Simmons, lead member for economy at East Sussex County Council, added: "The achievements made by the East Sussex Careers Hub certainly deserve praise and celebration.
"Not only does the Hub give students experience and knowledge of work, but it hugely benefits employers who are able to work with education providers to shape training and careers support to ensure a future, local workforce which has relevant skills and training."
More information about the East Sussex Careers Hub and opportunities available, can be found at www.c360.org.uk
Case study
Eastbourne-based electrical company G M Monk has been working with Hailsham Community College, other schools and local firms to inspire the next generation of talent.
From sharing experiences with employers at special business breakfasts to developing a scheme which enables companies to show their support with a window sticker, GM Monk is not afraid to try different ways to help fill the skills gap.
Managing director, Scott Monk, said: "You can either sit on the sidelines worrying about a lack of young people coming into your industry, or you can do something about it.
"Supported by the county council, we've been involved in the Open Doors project, Industry Champion scheme, Apprenticeship Roadshows, and career events, and have offered students interview practice.
"We are the Enterprise Adviser for Hailsham Community College and are really proud that the college now has links with over 150 local employers. We've put in a lot of effort but it's been hugely rewarding."
The company is now working to develop a mentoring programme, which it hopes to start later this year, and have committed to provide more training for teaching staff on careers provision.
Scott added: "I would urge fellow employers in East Sussex to contact the Careers Hub and get involved. It doesn't have to take up a huge amount of your time, but it could have a huge benefit for young people and your industry in the future."
More information about how businesses can work with schools through the Careers Hub is available by emailing EnterpriseCoordinator@eastsussex.gov.uk

Ends