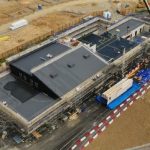 A MAJOR milestone in the development of a new primary school for Hailsham has been marked with a topping out ceremony.
The event saw the final roof panel added to the 420-place Hailsham Community College Primary Academy in Park Road.
With the birth rate in the town and surrounding areas increasing due to housing development, the new school, part of the Hailsham Community College Academy Trust, will welcome reception pupils from September.
Cllr Bob Standley, East Sussex County Council's lead member for education, inclusion and special educational needs and disabilities, said: "It's fantastic to see this building project nearing completion and I look forward to seeing the school welcome its first pupils later this year.
"Hailsham Community College Academy Trust has a good track record of securing good outcomes for children in the area, and I am confident that they will make the primary academy a great success."
The development is part of a £28 million capital investment by the county council into educational provision in the Hailsham area.
The county council is currently designing and building a new special free school in the town, which will provide 80 places for primary and secondary age children with social, emotional and mental health needs (SEMH) and additional needs such as Autism Spectrum Disorder.
The Beckmead Family of Schools, rated outstanding by Ofsted, has been approved by the Department for Education to run the new school. The new school will be located in Reef Way, and open in September 2020.
The development of the free school is in addition to a special educational needs specialist facility at Grovelands Community Primary School in Dunbar Drive.
The facility, will open in September and accommodate up to eight pupils with a primary need of autism.
Cllr Standley added: "Our investment in the Hailsham area demonstrates our commitment to deliver sufficient high quality education places for all pupils.
"We are already seeing significant improvements at the STEP academy primary schools, which provide for a large proportion of our children in Hailsham, and I'm certain that the investment being made by the county council and our partners will ensure that every child has a place at a good school and has every opportunity to reach their full potential."
Ends.