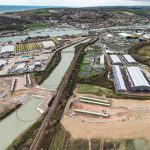 THE FINAL beams for the construction of a bridge to complete the Newhaven Port Access Road will be delivered in February.
Three 28 metre-long beams are due to be delivered to East Quay between Thursday, February 13 and Friday, February 14, as work to construct the bridge deck over the Seaford to Newhaven railway line and Tide Mill begins.
The project to move nine bridge beam sections onto the site – some measuring 50 metres, began in November and, due to the size of the vehicles needed to transport the components, required a police escort.
Cllr Claire Dowling, East Sussex County Council's lead member for transport and environment said: "We are extremely grateful to residents and road users around Newhaven for their patience during these deliveries.
"Our contractors have managed to keep disruption to a minimum by using boats for many material deliveries, but the logistics of getting bridge beams measuring up to 50 metres on site meant they had to come by road.
"With all components arriving on site, residents will be able to see the new bridge quickly taking shape."
With the railway line due to close from the early hours of Sunday, February 9, a 1,100 tonne crane will lift three beams into position above the track. Workers will be on site 24 hours a day over the weekend to ensure the line can reopen on Monday, February 10 at 4.35am.
The crane will then be dismantled and repositioned south of Mill Creek before the final pieces are put in place.
Once all bridge beams are in position, work to construct the reinforced concrete bridge deck and the new road and footways that will pass over it will commence. This work is expected to take several months.
With interest in this stage of the project expected, members of the public are being encouraged to use the public areas available to watch the work and are reminded not to cross site or safety fencing.
The Newhaven Port Access Road is expected to be completed by autumn this year and will create a direct access to the East Quay and allocated development land, open up 80,000 sq m of business space, allowing the creation of new jobs.
The scheme is being funded by a £10 million grant from the Local Growth Fund money through the Coast to Capital Local Enterprise Partnership and £13.2 million from the county council's capital programme – money set aside for one-off projects.
For more information about the Newhaven Port Access Road and the work taking place, is available at https://www.eastsussex.gov.uk/roadsandtransport/roads/roadschemes/newhaven-port-access-road/scheme-details/
Ends