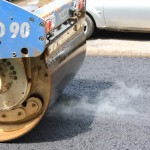 MAJOR work to improve and extend the life of a residential road in St Leonards, including a four week closure, will begin next month.
To minimise disruption the work to replace kerbs, carry out structural repairs and resurface Blackman Avenue, between Gillsmans Hill and Battle Road, will be carried out in three stages.
From Monday, February 10, temporary traffic lights will be in operation for a week as kerbs are replaced. The lights will be manually controlled between 7am and 7pm each day.
For four nights from Monday, March 2, the road will be closed for resurfacing at the junction of Marline Road. The road closure will be in place between 7pm and 6am.
The final stage of the work will require the road to be closed to through traffic for four weeks.
This phase involves repairing the concrete foundation of the road which has deteriorated over time, before the road south of Marline Road to south of Redgeland Rise can be resurfaced.
"We appreciate the disruption closing a road for four weeks will cause, but there is no other option – carrying out repairs to the foundation of the road is vital," said Cllr Claire Dowling, East Sussex County Council's lead member for transport and environment.
"We hope that by completing the work in stages, manually controlling traffic lights during busy periods and carrying out some of the work overnight, we can keep disruption to a minimum."
During the road closures, traffic will be diverted via Battle Road, A2100 The Ridge West, Queensway and Crowhurst Road. Pedestrian access and access to properties will be maintained throughout the work.
Residents are advised to check with bus companies for any alterations to services.