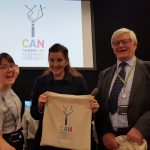 A CAREERS event for students who may struggle to access mainstream events attracted more than 400 visitors last week.
East Sussex Careers Hub brought business education and training representatives to Eastbourne's Kings Centre for the fourth annual event.
Students with Special Educational Needs and Disabilities (SEND), Social Emotional and Mental Health issues, or barriers to accessing mainstream events were able to speak to employers, training providers and guidance specialists for advice, support and opportunities.
Building on previous years, the 2020 iCan Careers Event gave visitors a chance to get help with CV writing, interview skills and college applications, watch career-based videos and talk to education and training providers and employers, including representatives from a number of East Sussex County Council departments.
Cllr Bob Standley, the county council's lead member for education and inclusion, special educational needs and disability who attended the event said: "This was a wonderful event that gave hundreds of young people, who would struggle accessing mainstream careers fairs, the chance to question employees and training providers and find out about opportunities open to them across East Sussex.
"For the first time, parents and carers were invited along to offer their support and discuss options with representatives from the world of business and training."
He added: "I hope many of the young people who attended have walked away with a better idea of the career path they wish to follow and the education, training and experience they will need to succeed."
New rooms were added to this year's free event allowing visitors to talk casually with employees in industries including childcare, construction, hospitality and many more.
Students from 27 Sussex schools were able to meet education and training providers and representatives from businesses through activities, and visit a careers hotspot room where they could have tailored conversations with employers.
Microsoft ran coding workshops throughout the day and training providers brought virtual reality headsets along to help with college orientation and to show how they are used in various businesses.
Students were also given the unique opportunity to visit the Careers Cinema and watch WOW Shows designed to inform and dispel myths about careers in the construction and health sectors.
The Work Ready Room gave visitors the chance to get help and advice with CV writing, interviewing skills and college applications. They were able to meet with information and guidance specialists who offered support with self-development.
Goodies bags, sponsored by AXA UK and Hawes Construction, were handed out to all those who attended the event on Thursday, January 23.
Ends.