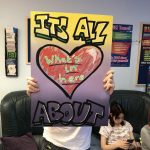 AN exhibition highlighting the little-known history of East Sussex's LGBT communities will go on public display at venues in the county.
Entitled LGBT+ equals me – a skip, a hop and a jump, the project is the product of months of work by young people who trawled the archives and visited cultural sites.
The exhibition features artwork, posters, a short film and interviews between younger and older LGBT people about their experiences and exploring how attitudes have changed.
It will go on display at Charleston, in Firle, near Lewes, over the weekend of February 8 and 9 from 10am to 5pm and at Hastings Museum & Art Gallery from February 18 to May 3, while the short film will be screened at the Towner Eastbourne on Tuesday, February 25 at 5.30pm, with a reception starting from 5pm.
The project is funded by National Lottery players through a £48,500 grant from the National Lottery Heritage Fund secured by East Sussex County Council, delivered in conjunction with young people supported by the council's targeted youth support service.
Cllr Sylvia Tidy, East Sussex County Council lead member for children and families, said: "Young people have done a fantastic job of exploring the county's LGBT history, which is far less well known than in areas such as Brighton & Hove.
"They've shown great imagination and creativity and the work they've produced really captures the giant strides that were taken by LGBT people of previous generations in fighting for the equality they enjoy today."
A group of 21 young people took part in the visits and activities that were part of the project, with a wider group of young people who attend targeted youth support groups taking part in the film and graffiti art elements.
James Parks, 22, from Seaford, said: "I didn't know anything about the events of Stonewall or any of the artists we looked at, so my biggest takeaway from this project was learning about all the different people involved in this movement."
Cai Blakeaway, 19, from Crowborough, said: "I got out of this project more knowledge and a better understanding of our community's past. It has definitely solidified some of my beliefs and made me feel like I need to help people, even within our community, understand what it is like to be me.
"I learned how far we as a world have come and how far we need to go to make everything the best it can be. I now have a stronger respect for the people of the past who fought to make it so I could be me now, and I have a bigger desire to fight for total equality for future generations. I hope that what I have learned can be used to help make the world safer for the next generation everywhere."
Jack Holt, 16, from Hastings, said: "I enjoyed the project very much. It was fun learning about other people's experiences and I enjoyed learning how to use the audio recording equipment and giving interviews."
Rylan Hallewell, 17, from Eastbourne, said: "I found the project good because I have a better understanding on LGBT topics and I've met a lot of people and had a lot of fun.
"I've also learnt a lot about LGBT history and how we've progressed over the years. I have a better understanding of what LGBT people have gone through and how to be more comfortable in your sexuality and gender expression."
Other organisations taking part in the project have included The Keep archive centre, in Moulsecoomb, Bexhill's De La Warr Pavilion and Ditchling Museum of Art + Craft.
About The National Lottery Heritage Fund:
Using money raised by the National Lottery, we Inspire, lead and resource the UK's heritage to create positive and lasting change for people and communities, now and in the future. www.heritagefund.org.uk
Follow @HeritageFundUK on Twitter, Facebook and Instagram and use #NationalLotteryHeritageFund