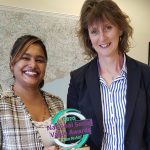 A PROJECT designed to match organisations that need help and those that want to help their local communities has received national recognition.
The East Sussex Social Value Marketplace, a project between local authority partnership Orbis and East Sussex County Council's Public Health team, was named Social Innovation of the year at January's National Social Value Awards.
The marketplace allows Voluntary, Community and Social Enterprise (VCSE) organisations working in communities to post requests for help on an online platform, which can be considered by businesses or organisations.
It also provides the opportunity for public sector suppliers and local business to share resources with communities and create social value by posting offers of support or responding to requests for help.
Cllr Nick Bennett, East Sussex County Council's lead member for resources said: "I am delighted that the efforts of our colleagues have been recognised with a national award.
"Still in its early stages, the East Sussex Social Value Marketplace has involved a great deal of work with partners in the voluntary sector, NHS, district and borough councils, Public Health and representatives from the business community.
"The result is the development of an online platform which supports the fantastic work of our local charities, enhances the lives of our residents and encourages people to contribute to their community."
Local VCSEs already listing requests on the site include a group of residents working with Alfriston Parish Council to improve the area who need extra help with some tasks, Hastings and St Leonards Food Network looking for a venue to deliver training to volunteers, and Aspiration Club which is looking for youth group support volunteers.
The first to benefit from the launch of the Social Value marketplace was Sussex Community Development Association Advice and Inclusion who took up an offer of a food donation from East Sussex County Council's procurement team
A spokesman from the organisation said: "As a very busy foodbank at what is a difficult time of year for many, this donation was very gratefully received and delivered to our door. A very big thank you to everyone who donated, and those who organised and delivered the donations."
VCSEs and businesses can find out more about the East Sussex Social Value Marketplace and sign up at https://socialvalue.supplytoeastsussex.co.uk/about/
The award was given by the National Social Value Taskforce – https://www.nationalsocialvaluetaskforce.org/