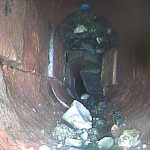 MAJOR repairs to a highway drainage pipe which caused potholes and damage to a Ditchling road will begin later this month.
In order to repair the 200mm diameter pipe that runs beneath the village High Street a trench will have to be excavated down the middle of the road and therefore, regrettably, the road will be closed between the B2116 and Orchard Lane from 8am on Wednesday, February 26 until 7pm on Friday, March 6.
As well as replacing the damaged section of pipe between the B2116 Lewes Road mini roundabout and East End Lane, specialist cameras will be used to check the drainage system as far as Orchard Lane, with any additional repairs carried out if required.
Once all checks and repairs are made, road resurfacing work will take place between Monday, March 9 and Tuesday, March 18, during which time daytime road closures will be in place.
Cllr Claire Dowling, East Sussex County Council's lead member for transport and environment, said: "The work is a result of an investigation carried out in response to the number of potholes appearing along Ditchling High Street and deterioration in the condition of the road.
"We appreciate that these road closures will cause disruption but would ask residents to bear with us. The result will be a smoother and safer ride for motorists and less disruption caused by multiple pothole repairs in the future."
Resurfacing work will begin on Monday, March 9, with the road closed from 9am until 4pm every weekday until Wednesday, March 18. The road will reopen overnight and at weekends.
During the road closures traffic will be diverted via the B2116, Ockley Lane, Folders Land and B2112 Common Lane. Pedestrian access will be maintained throughout the work.
Access will be provided to those homes and businesses affected by the road closures, but there may be some delay and disruption. Site staff will be on hand to assist with any access and delivery difficulties. Residents are also advised to check for any changes to bus services with bus operators.
Updated information on the work can be found at www.eastsussexhighways.com/roadworks