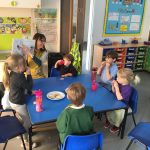 SCHOOLS in East Sussex have been rallying round to ensure their doors remain open for children who need support during the coronavirus outbreak.
While most youngsters have been told to stay at home, around 1,000 vulnerable children and children of key workers are continuing to attend classes at 140 county schools.
Many have joined forces with neighbouring schools, including Ringmer Primary and Nursery School, which is also hosting children from schools in Alfriston, Firle and Laughton.
Head teacher Anna Crompton said the different routine, which includes a 'Joe Wicks workout' for children and staff every morning, had brought unexpected benefits for some pupils.
She said: "The children absolutely love it and some who come in a couple of days a week are asking if they can come in every day. It is different from school as they know it; the nurturing they are receiving is allowing children to blossom in ways we have not seen before.
"The team have been absolutely amazing – I've been blown away by how staff from different school communities have come together. Staff from some of the other schools have been coming in even when none of their pupils are in school."
Cavendish School, in Eastbourne, is catering for its own primary and secondary children and those from Stafford, Roselands and West Rise junior and infant schools, and Roedean Moira House School.
Head teacher Peter Marchant said: "Children are very resilient and adapt very quickly to new situations. We've got children from different schools all getting on very harmoniously and they've made new friends.
"The staff have been brilliant. I sent an email out asking for volunteers to work over Easter and the next morning over 20 people came forward. Staff who are not actually in school are also doing a great job dealing with requests from parents and helping children learn at home."
In the east of the county, Rye College and Rye Community Primary School are offering learning, creative and physical activities for children of key workers in the primary school building and remote study for those at home.
Barry Blakelock, executive head teacher, said: "Our children continually surprise us with their resilience in such testing times. None of us – least of all them – have experienced anything like this before but they have managed these unprecedented challenges very well.
"The support from my colleagues has been overwhelming, not only looking after children in school but offering remote study and support. I've been struck by the 'can do' attitude from everyone I work alongside. I'm really proud of everything they're doing for our community."
Cllr Bob Standley, East Sussex County Council lead member for education, said: "It's often said that a crisis brings out the best in people and it's really inspiring to see the fantastic efforts being made by teachers and staff across the county to ensure support is there for children who need it.
"I'd also like to thank parents for the support they've shown to schools at this difficult time and the fact that the vast majority of them have respected guidance only to send their child to school if it's absolutely essential."
All schools are working together to ensure provision is available for children of key workers and vulnerable children over the Easter holidays, which start on Monday, April 6 2020.
Information on coronavirus including disruption to services, how to get support or volunteer to help and links to the latest Government advice is at www.eastsussex.gov.uk/coronavirus