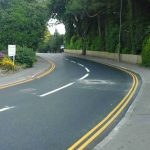 MOTORISTS using a busy Crowborough road can expect a smoother ride thanks to the completion of major improvement work.
Despite the global Covid-19 pandemic East Sussex Highways contractors were able to work safely to reconstruct Croft Road with minimal disruption.
The scheme was the first phase of a major improvement programme which involves extensive maintenance and resurfacing of four town roads.
The surface of Croft Road was removed and recycled to create a solid, long-lasting foundation for a new road surface.
Cllr Claire Dowling, East Sussex County Council's lead member for transport and environment, said: "It's great to see the results of this work which not only improves the appearance and safety of the road, but will also help us keep it in a good condition for many years.
"We are extremely grateful to those working on this scheme who have continued to do so during the Covid-19 lockdown with strict social distancing measures in place to get the first phase of this programme finished."
She added: "With improvement work as significant as this, disruption was inevitable, and I would like to say a big thank you to residents and businesses for their patience.
"We know these works were long overdue, but we wanted to wait until Southern Gas Networks had replaced their cast iron gas main, rather than have a new road surface dug up."
Work has now moved to Whitehill Road where resurfacing will be carried out over a four-week period, before improvements are made to Eridge Road and Beacon Road.
Drainage work will also be carried out in Eridge Road, Sheep Plain, Ghyll Road, Harlequin Lane, Crowborough Hill and St John's Road as part of the improvement programme.
Full details of the work and other forthcoming roadworks are available at www.eastsussexhigways.com
Ends