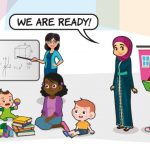 AS THE new school year is set to begin, thousands of children and young people will return to school after months away.
East Sussex County Council has launched a section on its website full of information and advice to support parents in planning for their child's return to school.
The pages, at www.eastsussex.gov.uk/backtoschool, share information about why it's safe to return to school, what children can expect and travelling to and from school, as well as links to expert advice.
Cllr Bob Standley, the county council's lead member for education and inclusion, special educational needs and disabilities (ISEND) said: "Parents and carers have done a great job supporting children's learning at home over the past few months, but it is vital to pupils' education, development and wellbeing that they return to school.
"Although the circumstances of each of the county's school vary, staff have been working hard over the summer to ensure that measures are in place to keep staff and children as safe as possible."
A redesigned curriculum, revised timetables, hand sanitiser stations, reorganisation of school furniture, increased cleaning and safety markings inside and outside school buildings and arranging children into 'bubbles' are all measures being adopted by primary, secondary and special schools.
Cllr Standley added: "Understandably, parents and carers will have questions about the return to school and hopefully the information, advice and links to relevant organisations will provide additional reassurance to send their children back to school."
Support is available for children who are anxious about returning to school via the Educational Psychology Service, and for children with special education needs and disabilities and their families via the Education, Support, Behaviour and Attendance service. Details of how to contact these services can be found on the Back to School webpages.
Any parent or carer who has questions about the measures that have been put in place at their child's school, should contact the school directly.
Ends.