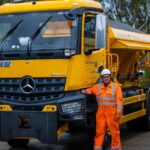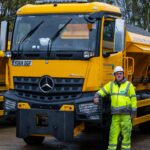 TWO gritter drivers will return to the roads this winter having clocked up more than 50 years' experience between them.
Graham Gosden and Mick Bishop are among the East Sussex Highways team gearing up for a busy few months keeping county roads clear of snow and ice.
The pair have been driving gritters since the mid-1990s and, despite the early starts and late nights, both say they love the job.
"It is a pleasure to keep the roads safe for the public and you see some beautiful countryside," said Mick. "It's quite a sight coming across a deer when you're driving through snow over the Ashdown Forest."
Graham (pictured left) added: "Our gritters are great to drive nowadays – it's warm in the cab, which is important when it's a freezing winter's morning, and everything is fully automated so you can control the grit spreading at the touch of a button."
With the gritting teams on standby 24/7 from October 1, working one week on, one week off, the start of autumn means a change in routine for Graham and Mick.
During the day they work as part of the highways team – Graham can usually be found driving or operating the Hiab lorry installing streetlight columns, while Mick looks after the stores at the highways depot in Ringmer.
But when the weather turns the pair join 42 gritter drivers covering 1,592km of roads through the night and in the early hours of the morning.
Graham said: "On a good night after an evening shout, I can usually be back home in bed by midnight.
"If it's a morning run, I'll get up around 2.30am before heading to the yard to load up the trucks with salt.
"My run takes approximately two hours and 20 minutes to complete. Once I'm back in the yard, we empty the truck of any leftover salt and wash it down to stop the rust."
Mick added: "You can't control the weather though. If it starts to rain, we have to wait as you can't grit on wet roads. And sometimes if the overnight forecast is bad we have to go out earlier, at 2am or 3am; then I try to get some sleep beforehand."
All 21 vehicles in the East Sussex gritting fleet were recently put through their paces during Operation Snowdrop, the annual initiative which sees the gritters thoroughly checked and sent out on a trial run of the gritting routes around the county to test their readiness for wintery weather.
East Sussex Highways has 8,000 tonnes of rock salt in stock at depots across the county; each gritting run uses approximately 100 tonnes of salt.
Over the winter the gritters treat all A and B roads and some C roads – a total of 42 per cent of roads across the county, with over 1,252km of roads treated on a primary route gritting run.
Cllr Claire Dowling, East Sussex County Council's lead member for transport and environment, said: "Graham, Mick and their fellow drivers do an amazing job on the rounds around our county every winter.
"A great deal of preparation goes into our winter response to ensure we are ready to treat roads before frost and ice appear.
"Gritting roads helps to lessen the driving hazards that winter brings, but it does not eliminate them. I would urge drivers to take extra care when driving during cold weather, even if they can see grit on the road."
Advice on how to prepare for winter and stay safe during the colder months, and information about East Sussex Highways' winter service, can be found at https://www.eastsussexhighways.com/our-services/winter-service