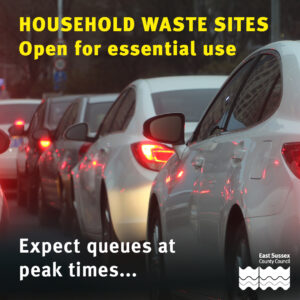 Residents are being urged to avoid rushing to the county's household waste sites in the coming weeks and to think carefully about whether they really need to go.
As the weather improves and people start spring cleaning, carrying out DIY projects or tidying up the garden, the council is asking residents to consider whether they can safely store additional waste at home until they have a full car load, or dispose of or recycle it through the kerbside collections, rather than frequently visiting one of the waste sites. Residents carrying out larger DIY jobs may wish to consider hiring a skip.
To keep staff and visitors safe during the pandemic restrictions are in place and residents are reminded they may face long queues if they visit a household waste site in the coming weeks.
Traffic management has been put in place at the Hastings, Maresfield and Mountfield sites since the start of March due to the sheer volume of vehicles visiting. On sunny days and at weekends, queues to enter sites can be up to two hours long, and people are encouraged to visit during the week when the sites tend to be quieter.
Social distancing is required on-site, and staff are unable to assist with the unloading or sorting of items. People can speed up their visit by separating items into categories when loading their vehicle. Reduced parking spaces remain in place at all sites.
Cllr Claire Dowling, lead member for transport and environment, said: "Our household waste sites have remained open throughout the majority of the coronavirus pandemic, and the teams have worked incredibly hard to keep them safe and running smoothly.
"As spring approaches the sites are getting very busy and if you do visit, you will probably have to queue. I understand the delays can be frustrating but sadly over recent months we have seen a rise in verbal abuse towards, and assaults on, our site staff, which is not acceptable in any circumstances."
Cllr Dowling added: "Lockdown restrictions are still in place and I urge residents to consider whether a trip to the tip is an essential journey. If you must visit please consider going at a quieter time, ensure you follow the rules when at the site, which are there to keep everyone safe, and always treat staff with respect."
Cars are accepted at the sites every day, but vans and vehicles over 2m are only permitted on Tuesdays, Thursdays and Saturdays (except at Seaford which is open Friday to Sunday only). Vehicles with a gross vehicle weight of 3500kg or above are not permitted at any time.
Van drivers must provide proof of address with two forms of ID such as a driver's licence, recent utility or Council Tax bill and they will be subject to new trade waste inspections. Trailers are not currently permitted.
Residents who need to visit a household waste site should check the opening times and restrictions before travelling to the facility. Sites will close on time and visitors should ensure they allow sufficient time for their visit.
More information about the locations of the county's household waste sites, opening times and the items accepted can be found on the East Sussex County Council website.