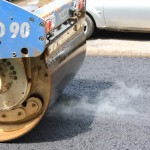 SECTIONS of an Etchingham road will be closed overnight throughout April to allow resurfacing work to take place.
Two stretches of the A265 – Haremere Hill and Straight Half Mile, will be resurfaced in sections between Tuesday, April 6 and Thursday, April 29.
Work will begin at the level crossing, with crews heading east towards Haremere Hall. Work on this section is due to be completed by Sunday, April 11.
On Monday, April 12, work is set to start east of Oaks Close and continue past the west entrance to Borders Lane – with just over a mile of road due to be resurfaced by Thursday, April 29.
Work on both sections will take place between 8pm and 6am, during which time the road will be closed to through traffic.
Cllr Claire Dowling, East Sussex County Council's lead member for transport and environment, said: "This is a busy route through to the A21, which suffers from wear and tear caused by large volumes of traffic.  The work will result in a safer and smoother drive for motorists, and is a good example of our investment in East Sussex roads and our efforts to prevent potholes.
"By carrying out the work overnight, we will be able to minimise disruption to the road network.  I appreciate that the road runs close to residential properties and I would like to reassure residents that our contractors will do everything possible to minimise noise."
During the second phase of the work, some daytime work on bollards and a drain will take place between the level crossing and Burgh Hill.  During this work, temporary traffic lights will be in operation.
For the overnight work, a diversion route will be in place via the A21, A2100 London Road, North Trade Road and B2096 Battle Road.
For more information and maps of the planned work, visit www.eastsussexhighways.com/highway-schemes/a265-haremere-straight-half-etchingham
Ends.