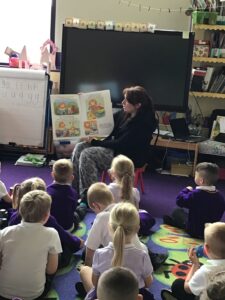 YOUNGSTERS across East Sussex are 'Staying Safe with Sam' after receiving free picture books highlighting potential dangers in the home.
East Sussex County Council is one of only two authorities in the country to have received the resources from the Child Accident Prevention Trust (CAPT) as part of an initiative for Child Safety Week which runs from Monday, June 7 to Sunday, June 13.
The rhyming picture book, to be sent home with almost 6,000 Reception-aged children, teaches how to stay safe around cleaning and laundry products.
Darrell Gale, Director of Public Health in East Sussex, said: "We are really pleased to be working with CAPT and local schools to highlight this important issue. Sadly, in East Sussex, the rate of hospital admissions due to unintentional injuries in children aged under 14 is significantly higher than the national average.
"We know that, on average, two children under five attend an East Sussex A&E every week due to an accidental poisoning.  Staying Safe with Sam provides a fun and interactive way for young children and their families to learn how they can stay safe around cleaning and laundry products. If this campaign helps to prevent even some of those accidents, then it has been worthwhile."
As well as the books for children, schools have been sent resources for teachers to talk about safety in the home with their classes and a home-link pack to be given to every Reception Year child which includes fact sheets and activities.
Elizabeth Latter, Primary PSHE Hub lead for Hastings, Rother and Rye schools and a Reception teacher at Glenleigh Park Primary Academy in Bexhill, said: "We used the 'Staying Safe with Sam' materials when teaching our Reception children about keeping safe in their homes. The children were completely engaged by the characters, story and rhymes. They could be heard repeating the refrains/messages in their play, which was simply wonderful, showing how powerful the resource was and how well they had taken the learning on board.
"The parents welcomed such clear and engaging materials to use at home and their children were able to 'teach them' what they had learnt at school. Several parents commented on how the resource had helped them make different and safer choices at home."
The theme of this year's Child Safety Week, an annual education campaign run by CAPT, is 'Share because you care', highlighting how sharing knowledge really does help save lives.
Katrina Phillips, Chief Executive of the CAPT, said: "Cleaning and laundry products make our lives much easier. But, if they get into the hands of young children, they can cause serious harm. Staying Safe with Sam is a fun way of teaching children how to keep themselves safe.
"We're very pleased to partner with East Sussex County Council, reaching almost 6,000 reception children and their families with safety messages county-wide."
To find out more about Child Safety Week visit the Child Accident Prevention Trust website.