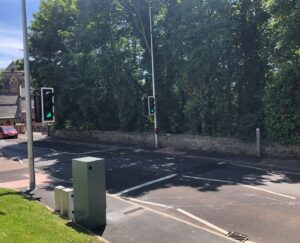 RESIDENTS in Hastings are able to cross a busy road more safely following the completion of a new pedestrian crossing.
East Sussex Highways has installed the new signalised pedestrian crossing on The Ridge, just to the south of the junction with Chowns Hill, providing safer and easier access to St Helen's church, Hastings Court care home, Hastings cemetery, and local bus stops.
Although the scheme was approved in September 2019, following a local consultation earlier that year, the coronavirus pandemic delayed the project.
Construction was permitted to start in January this year and the crossing was completed in April.
Cllr Claire Dowling, lead member for transport and the environment, said: "I am delighted that this pedestrian crossing has been successfully completed following an unavoidable delay due to the pandemic.
"The consultation showed strong support for the scheme and the new crossing will make a big difference to improving safety for residents and visitors wishing to cross this very busy road."
As well as the new puffin crossing, the project included the installation of new street lights on the approach to the crossing, the relocation of a bus stop to improve visibility of the crossing to drivers, the introduction of a dropped kerb to allow off street parking at St Helen's church, and new road markings and signs.
Funding from the Local Growth Fund for a range of walking, cycling and public transport initiatives in Hastings and Bexhill made the provision of a new pedestrian crossing possible as part of several improvements across the two towns.