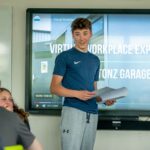 MORE than 1,300 students from across East Sussex were able to get an insight into the world of work despite the global pandemic, thanks to a virtual initiative.
Created by East Sussex County Council's Careers Hub and Work Experience teams in association with local consultancy Always Possible, the Virtual Work Experience programme allowed employers to set authentic challenges which helped students learn more about the workplace.
Cllr Bob Standley, the county council's lead member for education and inclusion, special educational needs and disability, said: "I am delighted that hundreds of young people were able to gain a better understanding of the world of work and the opportunities available to them.
"The Covid pandemic has caused a great deal of disruption to these young people at a crucial time in their education and it is a real achievement, given the circumstances, that we have been able to continue with the valuable work experience programme."
He added: "I want to thank our team at the council, staff in schools and colleges, employers and partners across the county for working so hard to pull this together."
A selection of videos allowed students to get a better understanding of East Sussex businesses and hear what employers expect of their staff, while online sessions with panels of employers and careers guidance professionals gave them the opportunity to get information and advice directly from businesses.
Laura Linch, Careers Leader at Robertsbridge Community College, said: "The Virtual Work Experience programme has been a fantastic alternative for those students unable to attend their physical placements due to Covid. Students have responded saying that they have felt more confident about their next steps and they liked the range of tasks, activities and employer videos."
Where safe to do so, around 900 pupils managed to go on physical placements this year thanks to the support offered by East Sussex schools and colleges, employers and the county council's work experience team.
The virtual work experience resources remain available on a subscription basis to East Sussex schools. For more information contact the Work Experience team at workexperience@eastsussex.gov.uk
Ends.