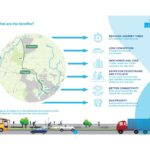 A CONSULTATION on improvements to a major road between Hailsham and Eastbourne has been extended.
The public, businesses and organisations now have until Friday, September 3, to give their views on proposals for changes to nine junctions along the A22 and A2290.
A two-week extension to the consultation was agreed to ensure that as many people as possible had the opportunity to take part.
Cllr Claire Dowling, the county council's lead member for transport and environment, said: "This A22/A2290 is a busy and important route, but in need of improvement to cut congestion, reduce journey times and improve the safety of pedestrians and cyclists.
"The raft of measures proposed will also ensure the area thrives as well as support new home and job growth in the county.
"Given the importance of this work, we have decided to extend the consultation to give as many people as possible the chance to share their views on the proposals."
Proposals for the A22 comprise Boship roundabout; Hempstead Lane; and the A295 South Road roundabout on the Hailsham bypass, as well as the A27/A22 roundabout and A22 Golden Jubilee Way/Dittons Road roundabout at Stone Cross.
The proposals for the Eastbourne section of the A22 and A2290 relate to four roundabouts: Shinewater, Lottbridge, Birch and Seaside.  Measures include increasing the number of lanes, installing traffic lights, assigning dedicated left turn lanes and addition of and improvements to 14 pedestrian and cyclist crossings points.
Feedback from the consultation will be used to develop a business case for the A22 Hailsham and Stone Cross proposals to the Department for Transport and the further development of the A22 Eastbourne and A2290 junction schemes for when future funding is available.
The consultation will close on Friday, September 3.  To take part visit https://eastsussex.gov.uk/A22-A2290-Improvements
Ends.