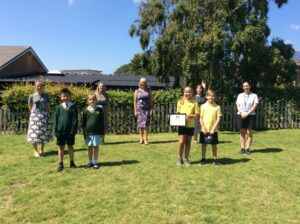 LITTLE Common School in Bexhill has become the first school in the county to achieve the East Sussex Healthy Schools Excellence Award.
Healthy Schools is a national programme that celebrates whole-school health improvement achievements. Schools can achieve Healthy Schools status by demonstrating how they support the health and wellbeing of their school community.
Since launching last September, 83 local schools have signed up to the programme and eight have already achieved Healthy Schools status.
Little Common School has gone one step further in being awarded the enhanced Excellence Award, achieved by participating in an external validation visit and submitting a case study.
Councillor Bob Standley, the lead member for education, and inclusion, special educational needs and disability at East Sussex County Council, said: "I am delighted that Little Common School has been awarded our first Healthy Schools Excellence Award.
"Their strong health ethos is visible across all aspects of school life and they listen closely to what children and parents have to say regarding all health and wellbeing matters.
"The entire school community should be very proud of the work they are doing to promote the importance of healthy eating and wellbeing, as well as the benefits of physical activity."
Pupils at the school learn about healthy eating through growing their own food, having a say in what food they eat in school, and learning to cook for themselves. By the time the children reach Year 6 they are able to plan, prepare, cook, and eat a healthy, three course meal.
Everyone at Little Common School is encouraged to be as active as possible at school and at home.  Physical activity is given a high priority across all aspects of school life, and families are encouraged to be active together with ideas and opportunities promoted through the school's "Get Active" newsletter.
Darrell Gale, Director of Public Health at East Sussex County Council, said: "Evidence that health and education are closely linked is strong.
"Promoting health and wellbeing in our schools and colleges can improve both educational and health and wellbeing outcomes.
"The impact of the coronavirus pandemic on young people's education and mental and physical health makes the development of a whole-school approach more important than ever.
"A wide range of support is available to participating schools from the School Health Service, and I strongly encourage all East Sussex schools to consider joining the Healthy Schools programme."
To find out more about the Healthy Schools programme or how the East Sussex School Health Service supports children, young people and their families visit https://www.eastsussexchildren.nhs.uk/ or email kentchft.esschoolhealthservice@nhs.net.