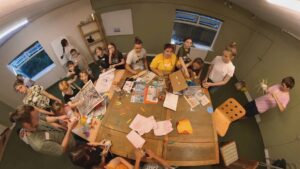 FILM makers, photographers, painters, performers and other creative practitioners being invited to submit proposals for the Holiday Food and Fun programme this winter.
Creative organisations and businesses are being sought to provide a wide range of activities, along with nutritious food and snacks, for the Government-funded scheme which will run across East Sussex during the Christmas school holidays.
The council can help identify suitable venues and can also offer support with the provision of food which is a key part of the programme.
The sessions will be free for children and young people who are eligible for free school meals or who are on income related benefits, with funding provided by the Department for Education.
East Sussex County Council is asking potential providers to submit their proposals by Friday, November 5.
Councillor Bob Bowdler, lead member for children and families, said: "Funded by the Department for Education, this scheme has been run successfully by the council over the Easter and summer school holidays, and will provide children and young people with positive activities and nutritious meals during the winter holidays.
"We are looking to expand the types of activities available to our young people and are keen to find organisations and businesses who can offer exciting, creative experiences.
"I would urge any interested creative practitioners to get in touch as soon as possible so we can offer an even wider programme of activities in December."
Activities may include workshops to enable children to make presents for their families or other festive crafts such as pottery, painting and sewing, as well as photography, dance and drama.
During the summer holidays, 85 providers delivered activities and food to more than 3,600 children in East Sussex.
Interested creative practitioners and organisations should email the council's holiday programme team at HAF@eastsussex.gov.uk to discuss the scheme and funding requirements, and to receive support in developing a proposal.